Duplication Specialists, Inc., 843 Merrick Road, Baldwin, NY 11510
Phone: (516) 867-7300, (800) 227-1382 .Fax: (516) 867-7597 .E-mail:
sales@dupespec.com
Video Services

HD Video
High Definition Video was embraced by the broadcasters before content was available, which has created a need for large volumes of Hi-Def video content. Let us help you with your migration from SD to HD video and back again. Many tape and file formats are suitable for transporting HD images. Duplication Specialists, Inc. maintains most formats, both tape-based and file-based, and we are experts at transferring between formats. We provide HD up/down/cross/standards and frame rate conversion using real time hardware transcoding with sophisticated test & monitoring equipment to ensure your content's integrity.

Supported HD Formats
| | |
| --- | --- |
| HDCAM | All frame rates |
| DVCPRO HD | All frame rates |
| HDV | All frame rates (JVC & Sony) |
| Blu-Ray Disc | |
| HDCAM SR | |
| Quicktime files | Compressed/un-compressed/all codecs |
| Windows Media files | |
HDCAM SR and D5 transfers are available by schedule on itinerant machines. Call for availability.
Uncompressed HD output content is available to layoff, tape or file formats.
As with all our services, we can deliver most HD content overnight or electronically to suit your schedule.
Expert HD up-conversion done from any SD tape format as well as HD down-conversion to any SD tape format with matching timecode using the best signal path.
We uniquely convert between all frame rates of HDCAM, DVCPRO HD and HDV usually with matching timecode.
HD Frame rate conversion is a similar process to SD standards conversion, but instead of having just two frame rates like SD (525, 625), HD has a multitude of frame rates (720p50, 720p60, 1035i60,1080i50, 1080i60, 1080p24, etc.) Additionally, not all HD is created equal, as most tape decks use unsophisticated up-converters resulting in poor quality HD video. Unsophisticated converters using the same conversion algorithms as an SD converter (or none at all) will lead to poor conversion results since the algorithms are now faced with processing 4 times as much information as they were in SD operation. Our new HD Pro 40 frame rate converter not only possess the ability to readily process this wide stream of information but it also features HD optimized algorithms for best possible conversion results. This unit will up/down/cross and frame rate convert virtually all current SD & HD frame rates.
Encoding and File transfer
As more and more content migrates to the tapeless world of video and audio files, you can rely on Duplication Specialists, Inc.' dedicated Dept. for transfer and conversion of timecode-based assets to and from tape or files.
If it is on tape and you need it to file, look no further! We maintain all modern HD and legacy SD tape recorders and know how to use them properly! Our engineers understand timecode, frame rates and codecs, so we are uniquely qualified to help you deliver precisely what your customers require from you.
Please be prepared to inform us of your preferences with regards to the following parameters: Frame Rate, CODEC, Data Limit (ultimate file size) and Frame Size.
You can access our FTP server to upload your oversized files directly to us, as well as receive electronic deliveries from us! Duplication Specialists FTP

Supported File Formats
| | | |
| --- | --- | --- |
| H.264 | FCP | ProRes |
| Quicktime | .WMV | .AAC |
| .MOV | .FLV | .MP3 |
| .SWF | .MPG 1,2,4 | .AIFF |
| .AVI | Real Media | .WMA |
All formats are available in all applicable codecs and parameters
Duplication Specialists, Inc.

applies the same expertise to the tapeless workflow that we use in the tape world. We can assist you in choosing the appropriate CODEC and output file parameters for your needs. Please consult us before you embark or your next project to avoid the common compression pitfalls.

Duplications Specialists, Inc.

offers compression and encoding for all web & mobile video devices as well as our HD + SD video encoding for remote editorial needs.
FINAL CUT PRO? DVD STUDIO PRO? We understand these and other popular software, such as Adobe Premiere and Encore applications and can deliver assets to meet your bit budgets and systems requirements. Our operators can match any file attributes to facilitate the creation of additional material as needed for your project.
For superior web video creation, delivery and streaming,

Duplication Specialists, Inc.

can analyze your existing structure and recommend modern, cutting edge CODECS and file types to better suit your needs. Think MORE, BETTER, FASTER!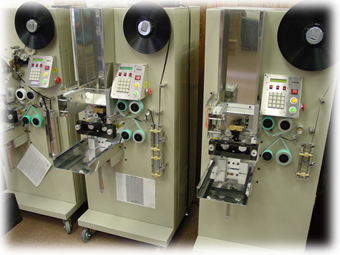 Duplication Specialists, Inc.
offers all phases of Digital Cinema Package (DCP) production. We can work from all major formats, and are fully equipped for advanced color space conversions and encryption.
As technology continues to progress,
Duplication Specialists
has maintained the same committment to quality and service. The end result is the best quality viewing experience, formatted for the big screen yet faithful to the director's intention.
We use industry standard equipment in every step of our process, utilizing cutting edge technologies for encoding DCP's. For D-Cinema distribution, we use proven hard drives cloned on industrial hard drive duplicators.
We provide expert mastering from most formats, such as HDCAM SR, QuickTime, and DPX files at 2k, 4k, & 3D stereoscopic projects.
Duplication Specialists expertly manages the color space conversions necessary and applies the necessary LUTs from log, Rec. 709 or p3 RGB to XYZ. QC checks are made to the final product as part of our manufacturing process.
Mastering from virtually any source material to digital cinema compliant files (DCI)
2k, 4K and 3d DCP's generated
Colorspace conversion from source material to the DCI-mandated XYZ colorspace
Quality Control of the DCP
Duplication and Transfers
Duplication Specialists, Inc. provides a full range of videotape duplication services without quantity restrictions.
Broadcast Cassette Duplication in all standards and formats with matching time code (LTC/VITC) and audio signals. We are a large Broadcast Dubbing facility maintaining most NTSC and PAL tape machines in abundant quantity.
We offer custom packaging, labeling, fulfillment and shipping. Please call for pricing or submit the online quote form.
Supported NTSC and PAL formats
| | | |
| --- | --- | --- |
| DVD | Betacam | DV |
| VHS | Betacam SP | Mini-DV |
| S-VHS | Betacam SX | DVCAM |
| 8mm, Hi-8 | Betacam Imx | D-1 |
| Betamax | Digital Betacam | D-2 (NTSC only) |
| Digital-8 | HDCAM | D-3, D-5* |
| ¾ inch (Umatic) / ¾ inch SP | HDV | D-9 (NTSC only) |
| Laser disc | DVCPro | 1 inch type C |
| ¾ inch Highband (PAL) | DVCPro 50 HD Varicam | 2 inch QUAD (NTSC only)* |
* Itinerant machines available for dubs.
What sets our dubs and transfers apart from the competition:
All dubs and digital clones are made following a strict procedure that optimizes the signal quality by using the best native format (i.e. SDI, YUV component, etc.), monitoring with native test equipment and rigorous Post Dub Quality Control.
A qualified technician closely monitors the entire duplication process to identify glitches and corrects them before they become problems.
Standards Conversions and Transfers
At Duplication Specialists, Inc., we use the most advanced equipment to standards convert (transfer) your PAL, SECAM, NTSC, PAL-M and PAL-N video in broadcast-quality with conventional linear (4field/4line) interpolation or with Advanced Motion Compensation.
We are very serious about standards conversion, this includes having both Video International (German) and Snell & Wilcox (British) equipment – the two worldwide leaders in standard conversion technology - matched with a full complement of signal test equipment.
Reference a full list of conversion standards by country.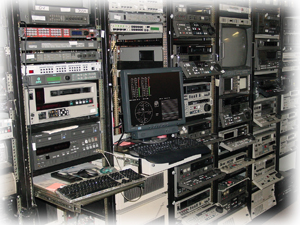 Linear Interpolation vs. Motion Compensation
Standards conversion relies on the process of interpolating picture content, either because you need extra pictures (going from 50 to 60 Hz.) or because you need less. In both cases it is necessary to create images that did not exist in the original picture content.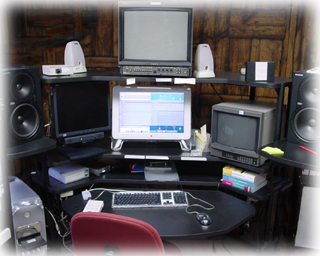 Linear interpolation is a method that has been used and perfected for nearly 30 years. The results are very good if there is not too much rapid movement in the video. Judder and image blurring can be the resulting, undesirable effects.
For superior results a way of estimating where the elements of the interpolated picture would be, based on the direction and speed of movement of those elements, is needed. The direction and speed values can be expressed as vectors, and these can be used place the picture elements in the correct position in the new interpolated frame.
This motion estimation process in very complex and requires considerable computing power, not to mention sophisticated algorithms to produce a satisfactory result. But when applied correctly, the resulting pictures can hardly be distinguished from the originals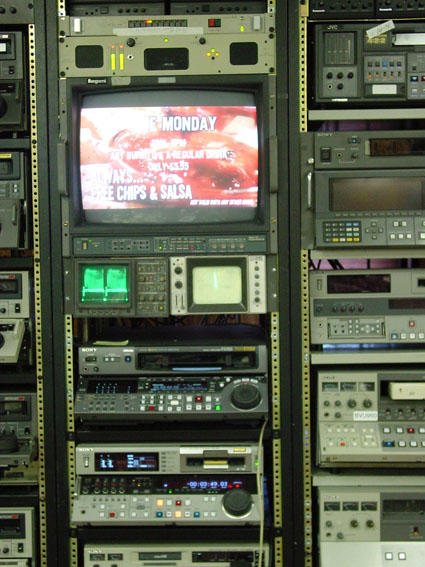 Editing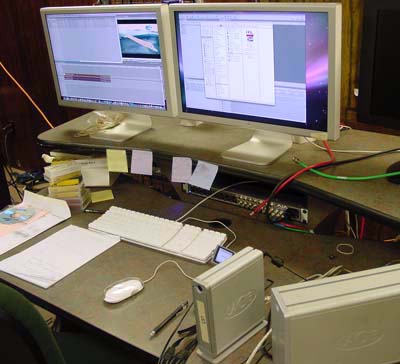 We can start with the raw information you give us, or just provide the finishing touches on your video project; we can support all levels of your video, audio, or data mastering needs.
From window dubs to full-blown editing of your program, our talented editors can support you with our state of the art Media 100 HD and Final Cut Pro HD non-linear editing suites, as well as Sonic Solutions HD Studio workstations.
For editing we support Pal, NTSC and HD standards.
Our multi-format equipment accepts: Y/C, RGB, YUV, DV, SDI and Composite video which are all mixable in the timeline. All signals are monitored on native format/standard test equipment.
We de-noise and optimize all source material and choose the best available audio formats.
Full 4 channel support for analog/digital tape formats as well as embedded audio support.
After evaluating the requirements and source materials we select the best tool for the job, either Final Cut Pro HD or Media 100 HD.
We select the best signal path and include matching time code (LTC/VITC) on your broadcast master tapes. We can layback digitally onto a new master or insert in native mode onto your edit master.
Linear insert and assembly editing is still available and can save you money!
Full support of Internet video! Want to save time and money? Call us before you order your next multimedia authoring and video compression job.
We are experts in Broadcast, Corporate, Educational and Personal video projects. Our experience will make your project look better, finish quicker and cost less.
Film to Tape Transfer
Duplication Specialists, Inc. is known as a high-quality Film-to-Tape tranfer house. Our process begins with cleaning of the film, checking and repairing splices before we even start. We use telecine equipment to assure the best quality output with roll by roll color correction. Beware of the guy who just points a camera at the wall! The high quality of our equipment guarantees the best possible transfer product.


We transfer 8mm, Super 8 and 16mm (with sound transfer) film.
Inspection and cleaning to remove slugs and undeveloped pieces is part of all transfers.
Film can be transfered to broadcast tape formats or consumer DVD and VHS.
DVDs get chapter points every 5 minutes and we provide a print-out of chapter points to aid further processing.
Our normal turnaround time is 2 weeks because we utilize batch processing.
All cleaned and restored films are returned to the client.
Archiving
Join the list of our clients who keep their corporate video and broadcast masters in our secure, temperature controlled facility. Let us save you the hassle of archiving, protecting and shipping your masters!

We maintain most legacy format machines and qualified video technicians to operate them.
Our technicians supervise segment pulls and traffic, so only your selected segments are processed.
We happily perform same day pulls, dubs and shipments.
Let us develop your archiving scheme and create an accessible, secure library of your most valued video assets.


Supported Input Formats
:
HDCAM SR
QuickTime
DPX 2k, 4k, and 3D Stereoscopic
All Final Cut formats, including:
Further Details and Specifications:
Expert Color Space Conversion to XYZ and ability to apply custom 3D LUTs
DCPs are created with a single Composition containing one Picture Track File and one Sound Track File
For D-Cinema distribution, we use proven hard drives cloned on industrial hard drive duplicators.
Video Tape Restoration
Duplication Specialists, Inc.he first videos of common use were 2" wide quadrature scan videotapes.  In addition to being wide, the tape surface was very thick.  After this came 3/4", 1", and the EIAJ 1/2" open reel tape formats.  All formats have one thing in common:  The oxide was thick and there was no consideration as to how they would age.  Unfortunately, they did not age well.  Most tapes of this era from the 1960s through 2000 require some form of restoration.  Also known as sticky-shed syndrome, this problem is mitigated by a dehydration regimen, effecting the process of binder remigration which makes the tapes playable for approximately 2 weeks, until the process starts to revert back to the previous condition.  Additionally, when the tapes were made, there was back treatment or backcoating added to the tape to increase the stability of the packing, as well as to inhibit the print-through contamination of magnetic information from layer to layer.  As this backcoating became universal, again there was no consideration of the consequences, and every time they made a change to this backcoating the long-term stability of the tape became questionable.  Therefore, tapes from the 90s may be worse than tapes from the 80s, but no worse than tapes from the 70s.            On both 1" and 2" tapes, some have cushioned flanges that disintegrated and need to be replaced before the tape can be played.  On ¾" cartridges some have padded cushions on the inside of the cartridge that became unstable.   These also may need to be replaced before the tape can be played.           In addition to the above-mentioned processes, all tapes will go through the process of de-cinching.  We call it the "princess and the pea syndrome" where the tape has been atrophied for 30-40 years.  We wind the tape to permit it to reform and also to release any detached or trapped debris between the layers before attempting to play the tape.  Additionally, this reburnishes the tape but is not damaging to the surface as cloth cleaning fabrics and hard-edge razors employed by "tape-reconditioning machinery" may do. We de-cinch the tape, replace the necessary parts, and dehydrate the tape for optimal playing.  The price for this service is a minimum of $37.50 per tape, and $75 for multiple tapes that meet but do not exceed the capacity of one of our specialized ovens. As with any surgical process, there is a risk to the tapes, but it is very minimal.  We have only known this process to enhance the tape.  This binder remigration is not a permanent process.  The tape will rescind back to its original condition in about two weeks.  We also perform this process on audio tape.           Once the tape has been processed and brought back to life, we then attempt to retrieve the data off of the tape.  We use electronic adjustment to ensure that your archived material is within "legal" broadcast limits and can be further corrected without loss or prejudice.  Our technicians are extremely skilled at this kind of work, and are eagerly waiting to work on your tapes! Please contact our sales department via email or phone at sales@dupespec.com or 516-867-7300 with any questions that you have.  We would be happy to speak with you and learn more about your needs, and take on your project!


©2013 Duplication Specialists, Inc., 843 Merrick Road, Baldwin, NY 11510
Phone: (516) 867-7300, (800) 227-1382 .Fax: (516) 867-7597 .E-mail:
sales@dupespec.com